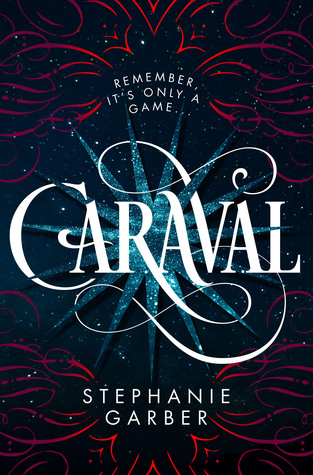 Caraval
by Stephanie Garber
Available as: hardcover, paperback, Kindle edition, ebook, audiobook
Pages: 407
Publisher: Flatiron Books
Publication date: January 31, 2017
Suggested tags:
young adult, fantasy
First in the Caraval series. From Goodreads:
"Remember, it's only a game...

Scarlett Dragna has never left the tiny island where she and her sister, Tella, live with their powerful, and cruel, father. Now Scarlett's father has arranged a marriage for her, and Scarlett thinks her dreams of seeing Caraval—the faraway, once-a-year performance where the audience participates in the show—are over.

But this year, Scarlett's long-dreamt-of invitation finally arrives. With the help of a mysterious sailor, Tella whisks Scarlett away to the show. Only, as soon as they arrive, Tella is kidnapped by Caraval's mastermind organizer, Legend. It turns out that this season's Caraval revolves around Tella, and whoever finds her first is the winner.

Scarlett has been told that everything that happens during Caraval is only an elaborate performance. Nevertheless she becomes enmeshed in a game of love, heartbreak, and magic. And whether Caraval is real or not, Scarlett must find Tella before the five nights of the game are over or a dangerous domino effect of consequences will be set off, and her beloved sister will disappear forever.

Welcome, welcome to Caraval...beware of getting swept too far away."
I read this last year when it came out, and I didn't *love* it like I expected to from that synopsis. But I mean, I
was
reading it during middle-of-the-night feedings with my then-newborn, so I thought it must have just been me and that I needed to reread it when my brain wasn't so mushy to fully *love* it.
But here I am, rereading it with a clear head, and... nope. It's still not complete *love* for me. Let me explain.
(And before we begin... I made all kinds of notes and highlights in my Kindle book that I borrowed from the library, but it expired and now my library mysteriously no longer owns any version of this book?? Thanks, county library, that's much appreciated. So I'm going from memory here...)
What I liked
: To be fair, the first half was *LOVE*. I remember that from my first read.
The beginning is like the perfect combination of the nonsense and magic of Alice in Wonderland meets the puzzle-solving and item-collecting of the old King's Quest games
, both of which are obsessions of mine. So obviously I was IN IT. I tore through those pages, devouring all the
clues and strange characters and lovely descriptions of enchanted gowns and magical settings
. I was THERE with her, completely lost in this book and reading along like "yes, YES, you open up that secret passage and see where it goes!!"
What I didn't
: But then it started to lose me a little. Because the clues were...not really clues? I appreciated that Scarlett's clue sheet was updated as she went along so we could follow along with how she was "solving" the clues, except...she wasn't, really.
The clues didn't lead her to anything, and she never seemed to make any progress in the game.
It wasn't like this clue led her to this new location, and she progressed from there... Every night she came back to the same room and started over again the next day. The clues just felt kind of pointless to me.
Then the last half-ish of the book lost me completely. After (
SPOILER
- highlight to read:
Scarlett falls into the water from the carousel
), it felt like the rest of the book was almost written by a different author. It
lacked the polish and finesse of the first half, like it was a draft that hadn't yet been fully fleshed out
. And aside from the writing style, the wrap-up of the plot didn't do much for me either. Even though everything was being revealed and all the game's secrets were coming out, there was no magic in it for me.
Too many things get re-explained too many times
...identities and motives are revealed, then proven wrong, then re-revealed, then proven wrong again... It was just
twist after over-the-top twist, leaving me feeling a little baited-and-switched instead of awestruck
.
...And is it just me or (
SPOILER
- highlight to read:
did Scarlett NOT EVEN HAVE TO PLAY THIS GAME?? She could have waited and spectated till someone else found her sister, then swooped in and did her sister-saving wish. Because apparently she didn't need to win the game, since Legend can't "give" her a wish anyway. She had the power to save her sister within her all along. ... Sooo why did we do this, again???
)
TL;DR
: All that being said, there are so many glowing reviews of this book out there, so please take my opinion as just my own humble one. Unfortunately, I had to knock it down from a rating of 5 BEAUTIFUL SHIMMERING STARS to a shaky 3, because the ending just left me so disappointed. But I will still be reading the next book in the series,
Legendary
, because if it gives me the feels of the magical questing and puzzle-solving first half of
Caraval
again, it will be totally worth it no matter how it ends.
Final verdict:
I liked it!
I thought this book was good! I may not buy it for myself but I'm glad I read it. I would probably recommend it to others.
{ Follow Stephanie Garber }