The I Heart YA Carnival is hosted by
Suze Reese
, author of the
ExtraNormal
series. Each Tuesday, a blog prompt will be posted about a topic related to the YA genre. Click the button to learn how to join in!
This week's prompt is:
With summer right around the corner I want to look at challenges - as in reading or writing challenges. There are a ton of them. A quick look at the website A Novel Challenge lists over a dozen for 2012. ... So what about you? Do you participate in challenges? Why? Do you do more than one at a time? Do love them? Hate them? Give us your scoop!
I just discovered the wonderful world of challenges not too long ago. I'm starting slow - so far, I've only signed up for the
2012 YA Mythology Challenge
, in which you aim to read 10 Middle Grade or YA novels with any type of mythology in the story.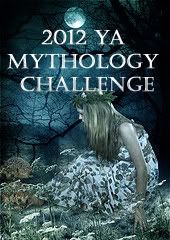 I'm so excited to do this challenge! I love mythology of any kind - Greek, Roman, Egyptian, Norse... the more obscure, the better! One of my favorite YA series of all time is Katherine Applegate's
Everworld series
, which combined all different types of mythology from across history and cultures into one amazing fantasy world. I read that series over and over and over in my middle school days, and I still love it 10+ years later!
I think challenges are great. They get you reading books you may not have picked up or even heard of otherwise. I discovered a lot of great books I'm looking forward to reading thanks to the mythology challenge, such as ...
There are so many challenges I want to do, but I don't have as much free time to read anymore, so I'm trying not to over-commit. So far I've only read
one book
for the Mythology challenge - and I thought when I signed up that I'd be at least halfway through the challenge by now! :( But I'm going to keep working on it, and hopefully I can join in on a few more challenges along the way as well!